Sakai Takayuki is known around the world for being one of the biggest manufacturers of Japanese knives as well as the top knife maker in Sakai, Osaka Prefecture. Their knives are known for its quality, toughness, design, functionality, and represent the very best of Sakai knife making.
Here are three recommendations for Damascus kitchen knives made by Sakai Takayuki:
Sakai Takayuki 33-Layer VG-10 Damascus Hammered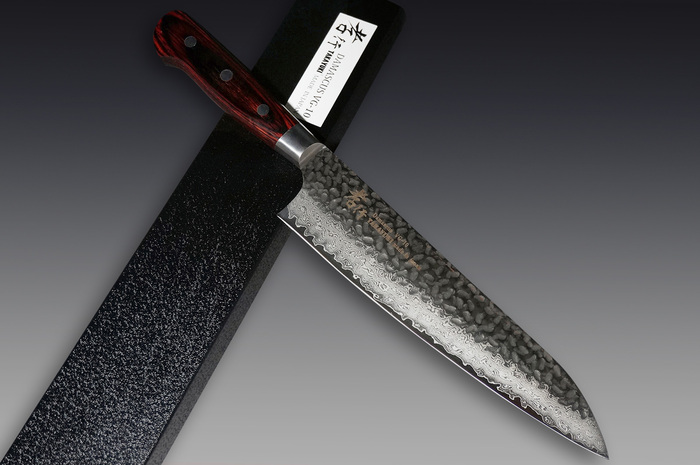 These knives are made with VG-10, a stainless steel which is a blend of carbon, iron, chromium, manganese, molybdenum, silicon, and vanadium. The steel is produced in Fukui, Japan by Takefu Special Steel Corporation, and is known to be one of the highest quality Japanese stainless steels for kitchen knives today. Knives made with VG-10 combine the hardness of carbon steel with the corrosion resistance of stainless steel and have excellent edge retention, making them excellent kitchen knives. Sakai Takayuki's 33-layer Damascus knives are double-beveled and crafted out of 33 layers of Damascus steel, folded and wrapped around a VG-10 core making them extremely hard (HRC61) and provides a superior cutting experience. The layered Damascus steel around the VG-10 core makes the blade easier to sharpen and additionally provides shock absorbing elements. Each blade is hand sharpened, and the exposed edges of these blades are the sharpest that can be manufactured. Each blade is fitted with a stylish mahogany handle, which is water resistance and extremely aesthetic. These knives come in a wide range of models such as Gyuto (chef knife), Santoku (vegetable, meat, and fish knife), Petty (utility knife), and Nakiri. A ceramic sharpening stone is recommended for speedy sharpening.
Sakai Takayuki 33-Layer VG10 Damascus Hammered Selections
Sakai Takayuki 33-Layer VG10 Damascus Hammered WA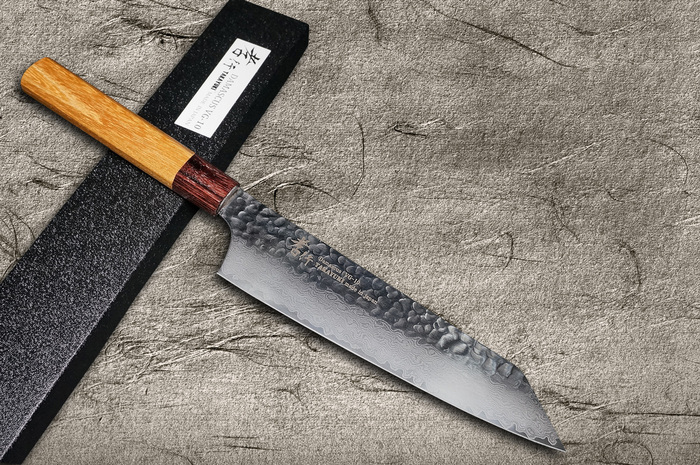 These knives feature the same blade details as the Sakai Takayuki 33-Layer VG-10 Damascus Hammered knives, with the only difference being its handle. The handles of these knives are made of half rounded octagonal Japanese Zelkova wood, which is a callout to the famous Japanese ornamental tree. The bolsters are made of mahogany wood, which is more durable and less prone to cracking. These knives also come in a wide range of models for different purposes.
Sakai Takayuki 33-Layer VG10 Damascus Hammered WA Selections
Sakai Takayuki VG10-VG2 Coreless Damascus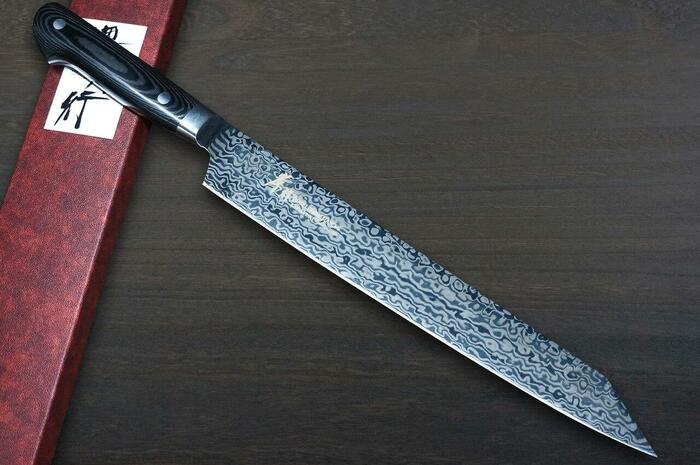 The Sakai Takayuki Coreless Damascus Stainless Steel Knives are made with VG-10 stainless steel and VG-2, a fine-grained, high-carbon, high-chromium Japanese stainless steel that holds a very sharp edge. These two steels are layered, welded, and roll-forged together to produce a blade with superior sharpness and excellent edge retention while featuring a stunning Damascus pattern. These knives are sharper, feature a harder edge, and are more durable compared to a standard VG-10 blade. An added benefit of coreless Damascus steel knives is that the cutting edge doesn't change with sharpening, allowing the user to adjust the bevel to any desired style without compromising the structure of the blade. The well-balanced and stylish handles on the knives are hand-crafted out of an odorless and durable material made of resin and linen that lasts decades and is a pleasure to grip. Overall, this knife is a great all-purpose chef's knife, ideal for dicing and slicing vegetables as well as cleaning and portioning meats.
Sakai Takayuki VG10-VG2 Coreless Damascus Selections
Summary
If you are interested in purchasing a beautiful Damascus kitchen knife, then the 3 Sakai Takayuki models above are all excellent choices. All knives are handcrafted with much care and craftsmanship, and as with all Sakai Takayuki products, you can expect the knives to be durable, sharp, well-balanced, and come with excellent edge-retention. The blades all come on a beautifully engrained handle, and a light center keeps the knives wonderfully balanced, making using these knives a wonderful experience.